Wall-Hung Toilet with Slim UF Seat Cover
Item Code: 1801
Wall-Hung Toilet.
Slim UF Seat Cover.
Size: 485 x 355 x 420 mm
Color: White
Highlights
Wall-Hung Toilet with Slim UF Seat Cover.
-> Dimensions
: 485 x 355 x 420 mm
Features:
-> Slim UF Toilet Seat:
Compared to conventional PP (Polypropylene) seat covers, UF (Urea-Formaldehyde) seat covers are high quality and scratch-resistant. UF seat covers are easy to clean and do not lose their shine even after years of use. The latest trend in Toilet design is 'Slim' seat covers.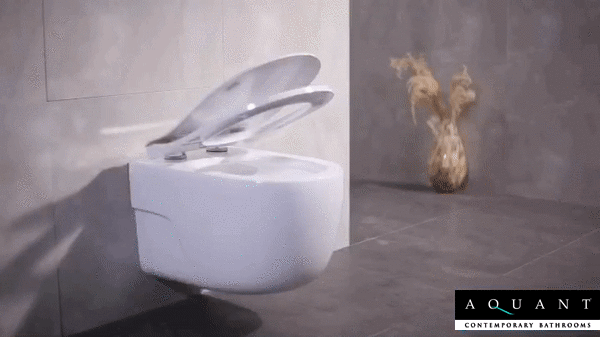 -> Quick-Release SS Hinges:
All Aquant UF seat covers have a 'Quick-Release' function and can easily be detached and reattached, which makes the process of deep cleaning the toilet very easy.
-> 'Soft-Close' Toilet Seat:
All Aquant toilet seats are 'Soft-Close', a practical and quiet alternative to traditional toilet seats. Soft-Close toilet seats are a must for households with small children, allowing them to use the toilet with ease without the risk of fingers getting trapped by a heavy seat.
Related products
Item Code: 1819
Item MRP:

₹

14,990
WANT A PRODUCT FOR YOUR BATHROOM?
Your search for Innovative & Stylish products for your Bathrooms at best-in-class Affordable Pricing ends here. Leave us your details!